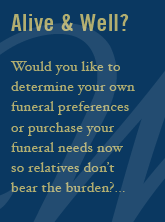 Personalization
Wilbert offers multiple ways to personalize a burial vault or urn vault with words, symbols, and images that speak of a singular spirit. Your loved one had a unique personality. The selections you make for the visitation and service should communicate that singular spirit. These choices ensure your loved one's memory is remembered for generations to come.
Mission Statement, Wilbert Funeral Services
We serve the needs of the death care industry through our licensee network with the highest quality products and services. We set the standards for graveside memorialization in the profession. We adhere to the values of our parent company and the ethical treatments of all those we serve. Please
view the Wilbert Funeral Services corporate brochure
for additional information on our history, burial vaults, urns, services, and outreach programs.
About Wilbert Funeral Services
Wilbert Funeral Services, Inc., a subsidiary of Wilbert, Inc., was originally founded in 1893 in Chicago, IL. It is the
largest single source supplier of concrete burial vaults and cremation related products and services in the world
. Through its strategically located distribution warehouses, the company serves over 18,000 funeral homes, cemeteries and crematories in North America. In fact,
every 49.5 seconds, every day of the year, a family chooses an outer burial container made by a Wilbert®
licensed manufacturer.
From famous celebrities such as Louis Armstrong and Elvis Presley to American Presidents, Eisenhower, Kennedy and Nixon, Wilbert has become recognized for providing the finest products in the death care industry.
Wilbert Funeral Services leads the way in research and development for its profession, pioneering such death care products as the WilbertWay® graveside lowering device, the lined concrete urn vault for cremated remains, the Cameo Rose® feminine-specific double reinforced burial vault, as well as the Veteran® and Salute® military burial and cremation products to honor our nations forces who have made the ultimate sacrifice. Wilbert Funeral Services gives back to its community through ongoing corporate sponsorships, the largest a $250,000 donation to the National World War II Memorial construction fund in Washington, DC. Locally, the Chicago Children's Hospital and the Shriners' Hospital for Children are the beneficiaries of an annual cash donation for medical research. Wilbert Funeral Services, Inc. is located at: 2913 Gardner Road Broadview, Il 60155 Phone: 1.888.WILBERT Fax: 708.865.1646 Website:
www.wilbertonline.com
About Wilbert Licensee Organizations
Often, Wilbert licensee organizations are family businesses in which leadership and responsibility have passed from father and mother to a son or daughter. Likewise their customers — funeral directors and local funeral services businesses — are also frequently family-owned and operated businesses, many times persisting as such through three or four generations or more. Their customers in turn are more often than not also families, families undergoing transition through the death of a loved one. So, in this important sense, as the story of the Wilbert organization unfolds, it is a story of families.