Quality Vaults & Monuments has been offering monuments, bronze memorials, signs and plaques since 1970. We will also install mausoleums and columbarium. We do our own carving, lettering and cemetery lettering. Quality Vaults and Monuments is a proud member of the Florida Monument Builders Association. We also offer Wilbert Burial Vault services to families through funeral home professionals. Products include burial vaults and urns, as well as keepsakes, memorialization, and mementos. In addition to burial personalization options, we offer services for set up, tent, chairs, grave digging, and relocation/transfer.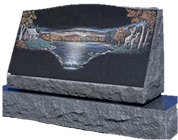 Monuments & Memorials
Our company has been offering Monuments, Bronze Memorials, Signs and plaques since 1970. We offer all different shapes and sizes at wholesale and retail prices. Quality Vaults also offers to the funeral professionals, an installation service. We will pick up from your location or you can have them drop - shipped to us. We will also install Mausoleums and Columbarium. We do our own carving, Lettering and Cemetery lettering.
Why Families Choose a Burial Vault - Video